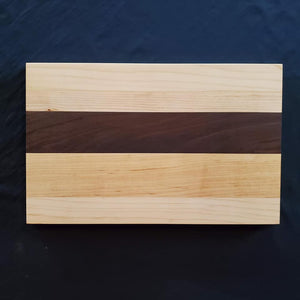 Perfect for slicing, dicing, chopping, and serving your favorite foods, this handmade multi-tone cutting board in maple, cherry, and walnut will add a flair to any kitchen! Each board is finished with 100% FDA-approved mineral oil and professionally shrink-wrapped to protect your purchase.

Due to the beauty of natural wood, the coloring, grain, and pattern may vary from the photo shown.

Measurement: 8.5" x 13.5" x .75"

Care: Hand wash with warm, soapy water, and dry immediately. Treat with 100% pure mineral oil occasionally to rejuvenate your board. Do not place the cutting board in the dishwasher. Do not soak in water.